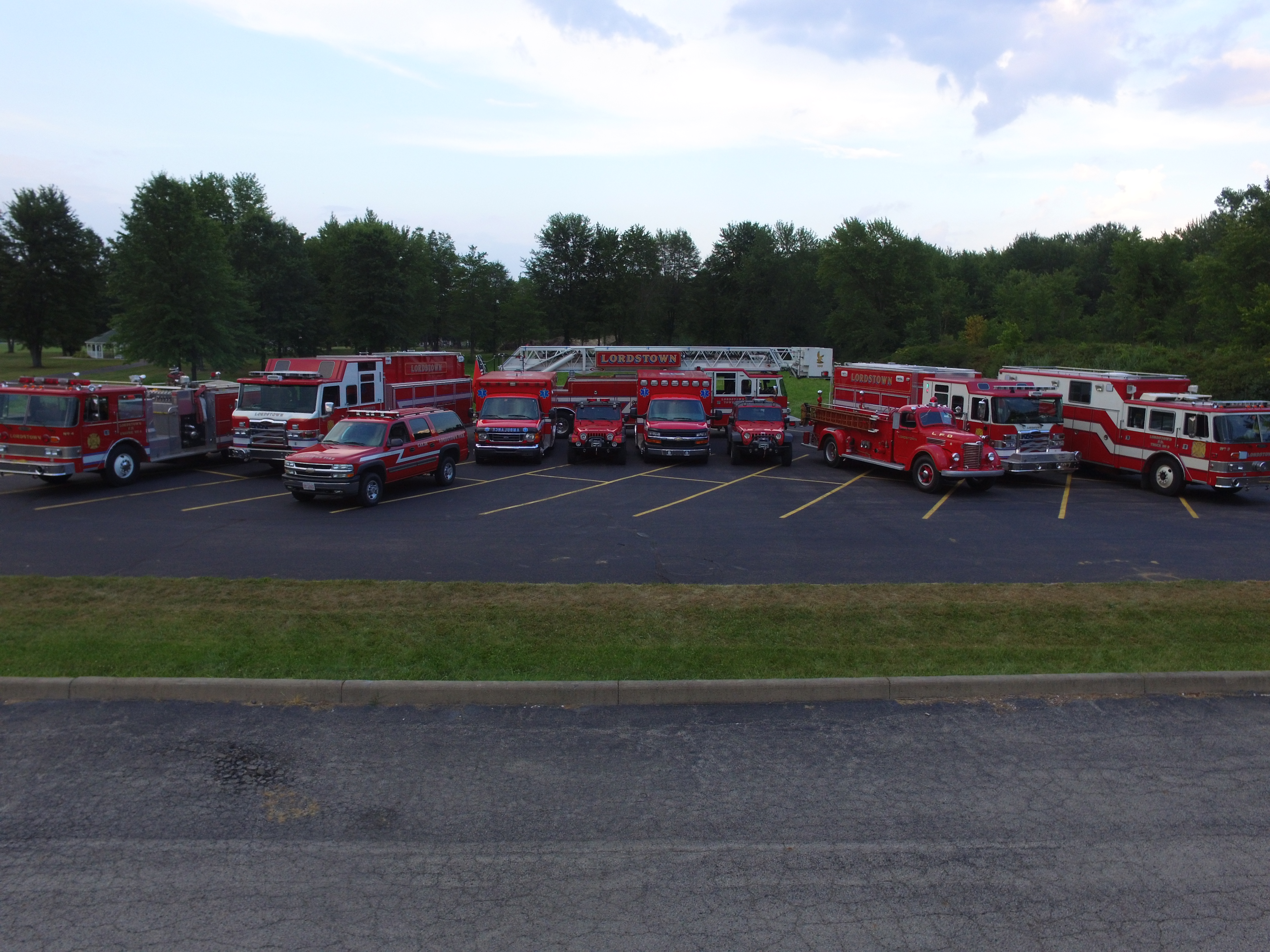 The Village of Lordstown, Ohio is a 24-square mile rural community located approximately 10 miles Northwest of Youngstown and is adjacent to Warren. The Lordstown Fire Department proudly protects the Village of Lordstown.
The Lordstown Fire Department, chartered in April 1946, is now celebrating 70 years of protecting life, limb, and property. The Department began serving the community with a single fire engine responding out of a central fire station located in the same spot where the current station stands. The department began with a 1947 International Pumper with a 600-gallon tank. This truck was restored between May of 2003 and September 2004 at an approximate cost of $21,000, and utilizes a 500 GPM Hale Pump and a Maxim engine. Click Here to read an article on the restored truck, as published in the Tribune-Chronicle, a local paper, on January 6, 2005. The entire current Lordstown Fire Department fleet is pictured above.
On April 1st, 2017, the Village of Lordstown began staffing 24/7. Our Department staff consists of 1 Chief, 1 Assistant Chief, 3 Captains, 3 Lieutenants, and 44 Firefighters including 31 Firefighter-EMT/Paramedics. We now have two personnel on staff at all times.
The Lordstown Fire Department currently operates out of one central station and proudly serves a population of approximately 3,300 people. The fleet pictured above consists of 2 Engines, 1 Tanker, 1 Ladder-Tower, 1 Heavy Rescue, 2 ALS Ambulances, 2 Brush units, and 1 Suburban for transporting personnel and equipment. In conjunction with complete fire hydrant coverage, the entire Village of Lordstown carries an ISO 5 Rating.
For information or inquiries, please contact us at [email protected]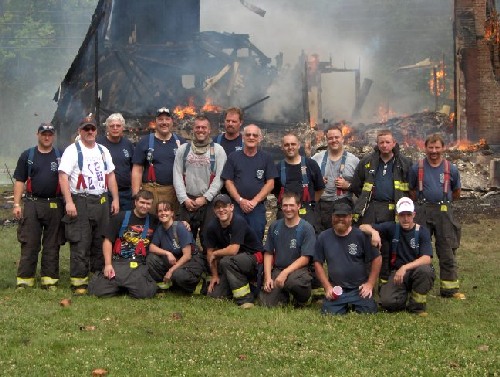 Group picture at June 24, 2007 training/burn-down.
Not all firefighters listed on roster available for picture.
We belong to:
Ohio State Firefighters Association
Trumbull County Fire Association
Mahoning Valley Firefighters Association
Contact us at:
1595 Salt Springs Road
Lordstown, Ohio 44481
330.824.3795 - Fax: 330.824.2498
E-mail: [email protected]
See also: The Ohio State Fire Marshall website.
Copyright© 2001-2007