The Village of Lordstown, Ohio, a rural community is located approximately 10 miles Northwest of Youngstown and is 25 square miles. The Village is proud to be home of many businesses, with the largest being the GM Assembly and Metal Stamping Plants that now manufactures the new Chevrolet Cobalt and more recently, the Pontiac G5, beginning production in 2007.
The Lordstown Fire Department, chartered in April of 1946 and now celebrating 60 years of protecting life and property, started with a 1947 International Pumper with a 600-gallon tank This truck was restored between May of 2003 and September 2004 at an approximate cost of $21,000, and utilizes a 500 GPM Hale Pump and a Maxim engine, pictured above with the 2001 Pierce Ladder Tower. Click Here to read an article on the restored truck, as published in the Tribune-Chronicle, a local paper, on January 6, 2005.
In the year 2006, Lordstown Fire operates out of 1 station and proudly serves a population of approximately 4,200 people with 1 Engine, 1 Tanker, 1 Ladder, 1 Heavy Rescue and 2 Jeeps for brush fire and 1 Suburban for transporting personnel and/or equipment. We also took delivery in January 2006 of an Osage EMS Squad. Hydrants protect the entire village and in combination with the apparatus, the Village of Lordstown carries an ISO 5 rating. We are proud to be protected and dispatched through the Lordstown Police Department, which supports 911.
For information or inquiries, please contact us at LFDChief@neo.rr.com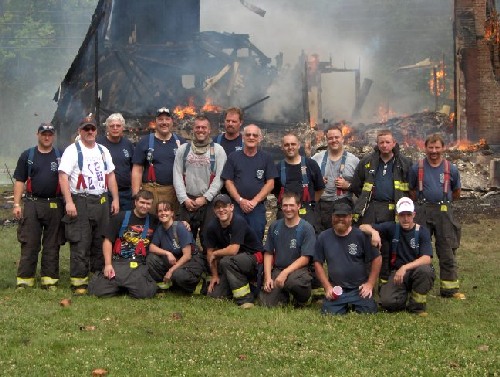 Group picture at June 24, 2007 training/burn-down.
Not all firefighters listed on roster available for picture.
We belong to:
Ohio State Firefighters Association
Trumbull County Fire Association
Mahoning Valley Firefighters Association
Contact us at:
1595 Salt Springs Road
Lordstown, Ohio 44481
330.824.3795 - Fax: 330.824.2498
E-mail: LFDChief@neo.rr.com
See also: The Ohio State Fire Marshall website.
Copyright© 2001-2007